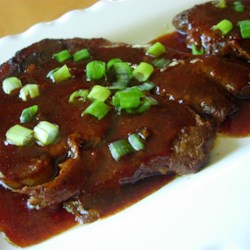 I am all about simplicity. In today's stressful world, dinner is the last thing that should be complicated. Here is a super quick recipe that you can prep and 5 minutes and cook all day and have ready for dinner time. If you love soft pork chops that will fall apart in your mouth with one soft bite, you will love this recipe.
Enjoy!
-@DjBeatstreet
Original recipe makes 6 servings
6 boneless pork chops
1/4 cup brown sugar
1 teaspoon ground ginger
1/2 cup soy sauce
1/4 cup ketchup
2 cloves garlic, crushed
salt and pepper to taste
Directions
Place pork chops in slow cooker. Combine remaining ingredients and pour over pork chops.
Cook on Low setting for 6 hours, until internal temperature of pork has reached 145 degrees F (63 degrees C).