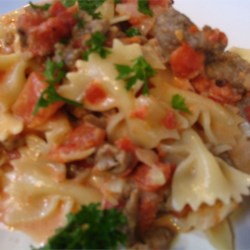 I could eat this everyday! When I made this meal, I thought I wasn't going to be impressed. I thought it was going to be a regular meal, but my taste buds proved me wrong. It was amazing. If you want to surprise yourself or anyone that you cook for, this is the meal to do it with.  It is super easy and can be ready to serve in about 45 minutes.
Enjoy!
Directions:
Bring a large pot of lightly salted water to a boil. Cook pasta in boiling water for 8 to 10 minutes, or until al dente; drain.
Heat oil in a large, deep skillet over medium heat. Cook sausage and pepper flakes until sausage is evenly brown. Stir in onion and garlic, and cook until onion is tender. Stir in tomatoes, cream, and salt. Simmer until mixture thickens, 8 to 10 minutes.
Stir cooked pasta into sauce, and heat through. Sprinkle with parsley.