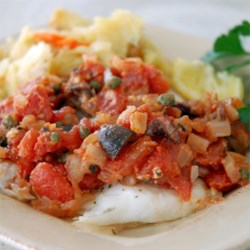 On Sunday I had made this meal right before The Walking Dead came on. The Walking Dead and this meal have nothing in common, except for the fact I had to leave my couch and grab a second serving. If you know me, then you know any disruptions during TWD will not be tolerated. I am not a fan of olives, but this recipe has changed that. This meal came highly recommended and I can see why. If you love flounder and the taste of olives then this is for you. If you like flounder but wanted a sauce that will give it an extra kick than the traditional salt/pepper/lemon/butter taste, this is a must try!
Enjoy!
Flounder Mediterranean
Ingredients
Original recipe makes 4 servings
Directions
Preheat oven to 425 degrees F (220 degrees C).
Bring a saucepan of water to a boil. Plunge tomatoes into the boiling water, and immediately remove to a medium bowl of ice water. Drain, and remove skins. Chop, and set aside.
Heat olive oil in a skillet over medium heat, and saute onion until tender. Stir in garlic and Italian seasoning. Stir in tomatoes, and cook until tender. Mix in wine, olives, capers, lemon juice, and 1/2 the basil. Reduce heat, blend in Parmesan cheese, and cook until the mixture is reduced to a thick sauce, about 15 minutes.
Place flounder in a shallow baking dish. Cover with the sauce, and top with remaining basil leaves.
Bake 12 minutes in the preheated oven, until fish is easily flaked with a fork.
PREP15 mins
COOK30 mins
READY IN45 mins