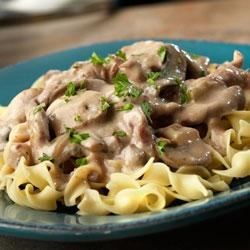 The king of slow cook is back! I prefer my meals fast, but leaving meat in the slow cooker and walking away for 6 hours isn't soo bad either. I know I have been lacking on the beef for all the red meat lovers, so here is my gift to you.
Enjoy!
Slow Cooker Creamy Beef Stroganoff
Stir the soup, water, Worcestershire sauce, mushrooms, onions, garlic and black pepper in a 6-quart slow cooker. Add the beef and stir to coat.
Cover and cook on LOW for 8 to 9 hours or until the beef is fork-tender. Stir the cream cheese in the cooker. Serve the beef mixture with the noodles. Sprinkle with the parsley, if desired.
PREP 20 mins
COOK 8 hrs
READY IN 8 hrs 20 mins