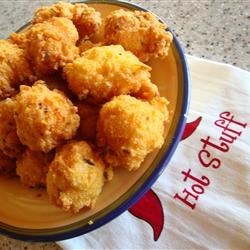 I had these when I was young and then I went to Myrtle Beach last summer and every restaurant served me hush puppies. I had suppressed the hush puppy craving for about 6 months, but  this week I decided to revisit that taste of the south. I was not disappointed with the end results and they are a great side addition to home-made crab/lobster cakes.
Enjoy!
Vicki's Hush Puppies
Ingredients
Original recipe makes 24 hush puppies
Directions
In a medium bowl, mix together eggs, sugar, and onion. Blend in flour and cornmeal.
Heat 2 inches of oil to 365 degrees F (185 degrees C). Drop batter by rounded teaspoonfuls in hot oil, and fry until golden brown. Cook in small batches to maintain oil temperature. Drain briefly on paper towels. Serve hot.
PREP10 mins
COOK30 mins
READY IN40 mins