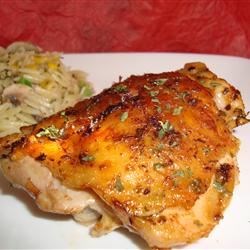 Let's talk about chicken,taste, flavor and everything else in between. Last night, I made this super fast and easy recipe that blew my taste buds away. I also enjoyed the fact that I was able to have dinner ready to eat in under an hour. (This included prep time) Below I will all add small advice section that helped me in the creation of this meal. I hope it helps you, as well.
Eat up & Enjoy!
Easy Garlic Broiled Chicken
Directions
Preheat the oven broiler. Lightly grease a baking pan.
In a microwave safe bowl, mix the butter, garlic, soy sauce, pepper, and parsley. Cook 2 minutes on High in the microwave, or until butter is melted.
Arrange chicken on the baking pan, and coat with the butter mixture, reserving some of the mixture for basting.
Broil chicken 20 minutes in the preheated oven, until juices run clear, turning occasionally and basting with remaining butter mixture. Sprinkle with parsley to serve.
PREP 10 mins
COOK 20 mins
READY IN 30 mins
Helpful Tip:
LindaK.
 This is one of our new fave's. Instead of broiling it, I bake it at 375 for about 45 minutes,stirring every 15 minutes or so. This way, you don't have to deal with smoking! This gives you time to prepare rice or noodles and you've got a fantastic meal ready in less than an hour. Yummy!!