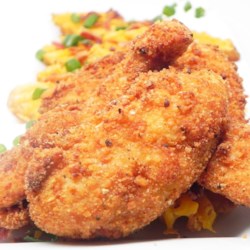 Boom! That is what your mouth will experience when you taste this meal. French fries and fried chicken tenders all rolled into one! Why wasn't this offered at Popeye's or KFC years ago? Here is a simple quick and easy fix for your next meal.
Enjoy!
Potato Crunchy Tenders
Directions
Heat the oil in a large skillet over medium heat.
While the oil is heating, beat the milk and egg together in a bowl. In another bowl, stir together the instant mashed potatoes, salt, and pepper.
Stir the chicken tenders with the milk mixture to coat thoroughly, then shake off excess milk and dip each tender into the potato flakes. Place the breaded tenders into the hot oil, and fry until golden brown, 7 to 10 minutes. Remove from oil and drain on paper towels.
PREP10 mins
COOK10 mins
READY IN20 mins